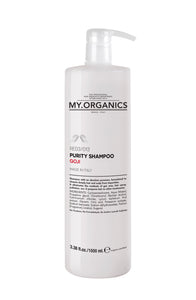 PURITY SHAMPOO [1000ML]
Intensive treatment for a deep regeneration and reconstruction of the hair.  Its protein composition modifies the hair structure treating the fiber.  It gives healthier and harmonious look to hair and domesticated the mane by making it softer and silky for 2/4 weeks.  It defines curly hair and makes wavy hair less frizzy; it gives nourishment also to very treated or dry hair.  Its extreme efficacy lasts long and its benefits are clear from the first application.
Dilute the product with hot water at a proportion of 1:3 (add 30 ml of water to 10 ml of product), then mix until it becomes a gel.  Apply on towel dried hair, leave on 10-15 minutes under a heat source or with a cap.  Rinse without the use of shampoo. Proceed with the hair set.