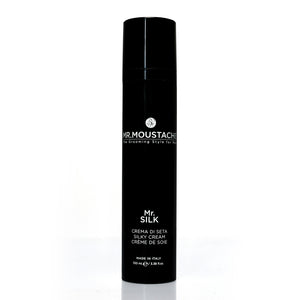 Mr.SILK Silky Cream 100ml
A silky cream with many properties and possible applications. 
​For beard – A silky cream that softens and protects the hairs, it prevents skin peeling and possible reddening. It improves beard styling and removes possible smell, making it clean, strong and neat.   
For skin – A cream that makes the skin smooth, polish and silky. It can be used every day for a lift effect on your face and neck. It is ideal for bald and shaved people because it restores the skin with an anti-ageing effect due to its formulation: green tea extracts prevent skin ageing and aloe extract prevents dehydration, dryness and possible reddening due to shaving.  
For hair – It is a leave-in conditioner that does not need to be rinsed out. It softens the hair without weighting it down. Hair becomes soft and silky. It prevents split hair and improves the appearance of frizzy, dry or porous hair. It helps in keeping healthy treated hair.