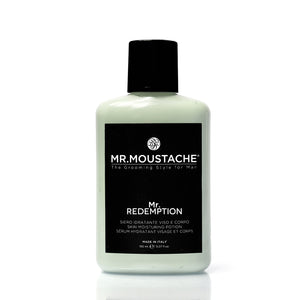 Mr.REDEMPTION Moisturizing Serum 150ml
Moisturizing serum for face and body skin regeneration. 
Its formulation is the result of high technology and precious essential oils with restoring and regenerating properties.  All the ingredients are natural and biological for a specific anti-ageing action.  
It is recommended as a post-shaving serum in order not only to soothe the skin after the blade passage, but also to reduce wrinkles, smooth eye contour, lift eyelids and lip contour: it is a real lifting treatment. 
Thanks to its specific texture, it is ideal to tone body skin too, moisturizing and regenerating it after each shower, thoroughly nourishing the epidermis.