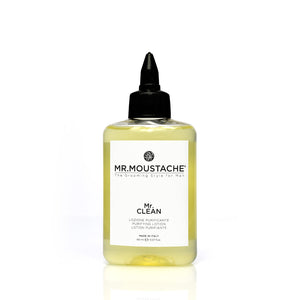 Mr.CLEAN Purifying Lotion 150ml
A scalp cleansing treatment that purifies the skin from toxins and follicular caps.  It removes all the impurities gently but thoroughly.
It prevents and removes dandruff and cutaneous sebum.  It improves hair appearance in case of Hyperhidrosis.  It prepares the skin to receive other treatments.  Its precious composition made of extracts of grapefruit, blueberry, lemon and tomato juice eliminates the bacteria causing impurities and sebaceous secretions.  It has a smoothing and anti-ageing effect. It prevents the oxidative formation of free radicals.  It can be used also for face cleaning; it eliminates blackheads and pimples, improving the appearance of horny layer.  
​For skin -  it is recommended to apply a little bit of the product on the skin, before washing the hair, to spread it and rub the scalp, above all the concerned parts.  Leave for 7/10 minutes, rinse and proceed with shampooing.  
For face care – Put the product on a cotton disk, pass the disk gently on your face skin.  Leave for 3/4 minutes, rinse and cleanse with the cleaning foam Mr.Wash.