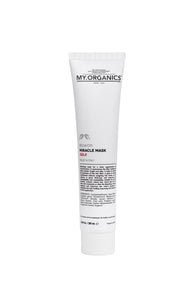 MIRACLE MASK GOJI [200ML]
Hydrating mask for a deep regeneration and reconstruction.  It reconstructs the fiber making hair softer, shinier, bright and silky.  It helps maintain the hydration of the hair fiber.  It gives an intense nourishment without weighing hair down: on the contrary it gives thickness and improves the manageability and comb-ability.  Suitable for all the stressed, treated, ruined hair.  Good also for the after color treatment or after the bleaching.  It keeps shininess and improves the color's duration.  It stimulates the hair healing improving the look from the first application.
Apply a generous dose of mask on the hair. Let it on 5-15 minutes under a heat source or with a hairnet (depending on the hydration you want to give to hair). Rinse accurately.