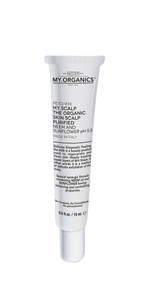 THE ORGANIC SKIN SCALP PURIFIED [12 x 15ML pcs]
NEEM AND SUNFLOWER pH 5.5
DELICATE ENZYMATIC PEELING.
This milk is a beauty product that is used to deeply cleanse and regenerate the scalp, by treating the upper layers of skin tissue: in other words, it is a gentle method of exfoliation of the scalp.  Its special formula features Neem and Sunflower oil, both with balancing and normalising properties.
How to use:
With dry or wet hair, apply to the scalp and perform a long, gentle massage.  Rinse thoroughly and process with the shampoo.  Repeat even weekly.