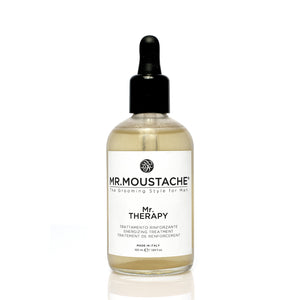 Mr.THERAPY Energizing Treatment 100ml
A special intensive treatment to prevent hair loss. 
It enhances cellular renovation and keratinocytes proliferations.  It improves cell viability and fights the growth of free radicals.  Thanks to its specific composition Natural Techno Trichological, made of Tricorex Complex, ginger and caffeine extracts, it is one of the most efficient products for hair loss prevention.  
After 50 days of constant usage of Mr.Therapy, it was shown substantial improvement in cellular reproduction, a strong reduction of hair loss and a decrease of sebum production and skin peeling.  It is recommended to use Mr.Therapy on clean skin. Massage it with circular movements.  
​Specific uses: 
for strong hair loss: apply it after every shampooing for 6/7 weeks  

for intensive nourishment: 2/3 times a week for 5 weeks.  

Generally recommended two treatments per year, preferably during seasonal changing in spring and autumn.