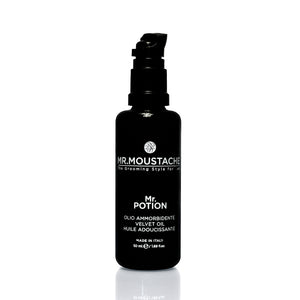 Mr.POTION Velvet Oil 50ml
A precious oil with many properties and possible applications.  
​For beard – Velvet oil for absolute softness. It moisturizes the beard, without weighting it down or greasing it. It regenerates beard hair making it soft to touch. Besides, it avoids irritations and dryness of skin. It releases a pleasant and seductive scent. It is recommended to take a little amount of product in your hand and then to apply it on the beard and to gently massage.  
​For skin – Precious moisturizing oil for the skin of your face, your neck and all the dehydrated parts of the body. It has an anti-ageing effect, thanks to its fatty acids such as omega-3, omega-6 and vitamin E. It has an antioxidant power; it protects cell membranes and fights against free radicals that cause premature skin ageing. It is recommended to put a little amount of the product in your hand and then to apply it on cleansed skin with a gentle massage till complete absorption.   
​For hair – Silky restoring hair oil. It nourishes the hair, making it soft and silky without weighting it down. It restores split ends and exhausted, dry and frizzy hair, making it bright, easy to comb and improving its appearance day by day. It can be used on both wet and dry hair. Ideal to apply before using the hair dryer.