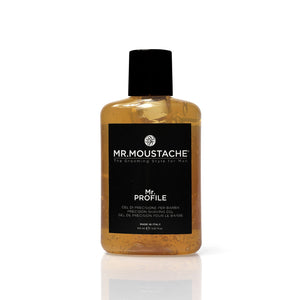 Mr.PROFILE Precision Shaving Gel 150ml
A special pre-shaving blend. 
​Thanks to its gel texture, it can be absorbed by the exterior layer of the skin, softening the hair.  
Also after its application, it is easy to understand where to shave thanks to its transparency.  The shave results perfect, easy and homogenous.  Its refined formulation with centella asiatica and aloe creates a perfect synergy to avoid the irritation of superficial capillaries, thus, it is suitable against razor burn.  It does not dry during shaving.   
It can be used also to shave the body.  
It is recommended to use the gel after having cleansed the skin with warm water and Mr.Wash foam.  Apply on the areas to shave using fingertips.  Leave for some seconds and then shave.